Matthew and Michele's Perfect Ring
Matthew and Michele's Perfect Ring
Posted on Tuesday, October 28th, 2014 at 1:36 pm by Administrator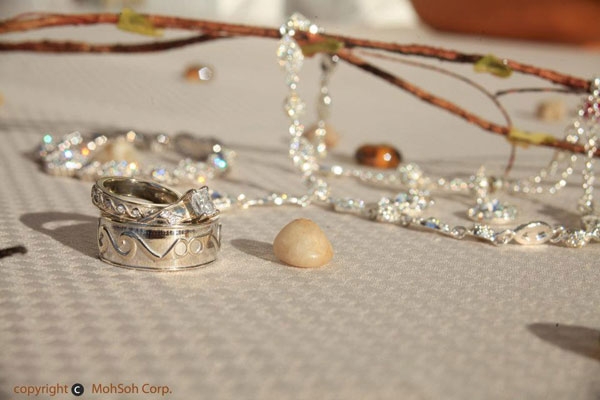 Matthew's original idea was to propose to Michele in front of the Trevi Fountain while vacationing in Rome with family, then get married in Tuscany and honeymoon throughout Italy. But when Michele's parents had to cancel their trip, Matthew decided to change course. Having family involved in their wedding was extremely important to Matthew and Michele. So instead, one night at home, Michele heard their song—"Save the Last Dance for Me"—and Matt calling to her from outside. When she opened the door, he wrapped her in a blanket and walked her through the sprinklers to propose. It wasn't the Trevi Fountain—but it was just as sweet and romantic.
When they designed their engagement ring together, Michele and Matthew wanted something that would represent their big love for each other. But Michele was concerned about the size of the ring: she wanted a modest stone that would look graceful without being too ostentatious or unwieldy. Because she's an athlete, she needed a ring that was streamlined and practical—yet elegant.
The couple came to Sausalito Jewelers with the idea of investing in a .5-carat stone in a low-profile setting. But Matthew says, "When she learned about diamonds and how different settings can show off their brilliance—and saw all the beautiful sparkling stones at Sausalito Jewelers—she slowly became converted." Ultimately, Michele and Matthew decided to invest in a 1-carat radiant-cut stone in a high (but sturdy!) setting.