Love Stories
Love Stories
Angelina's Romantic Adventures in Love

Angelina and Todd were friends in high school, but they weren't exactly high school sweethearts. Angelina was dating an older boy with a car — as teenage girls want to do. But when a surprise spring break run-in brought them back together in college, their love finally blossomed.
At first, they got to know each other over the distance between San Diego and San Francisco, but after they graduated, Angelina and Todd settled down in the Bay Area. Shortly after that, they got engaged in the Marin Headlands — not far from Sausalito Jewelers! — during a particularly romantic sunset overlooking picture-perfect San Francisco.
Their wedding was an adventure. They eloped to Sydney, Australia, where they were married in an intimate and epically romantic ceremony. Then, they honeymooned aboard a cruise to the remote Pacific islands of Vila Vanuatu, New Caledonia and Isle of Pines.
Today, Angelina and Todd's romance continues as they put down roots in Marin County with their two dogs, English bulldog Brewski and French bulldog Leo. Their matrimonial jewelry from Sausalito Jewelers will be a lifelong reminder of their romantic and adventurous beginnings.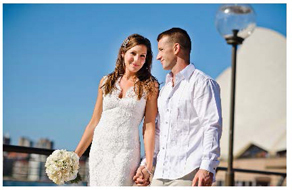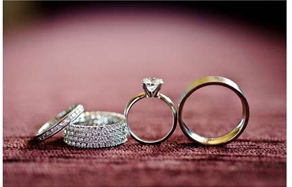 Leona and Mike's Western Love Story

Leona and Mike met right here in Sausalito and got engaged by the Rogue River in Southern Oregon. Leona was a local policewoman whom we knew for years, so we were honored to design her stunning custom engagement ring as well as the couple's wedding bands.
They were married in a private romantic ceremony on a beautiful sunny day in Southern California, and we were so honored to be a part of their nuptials and their ongoing love story.
"Sausalito Jewelers is truly a gem, and we are so thankful to call them our personal jewelers and friends." — Leona and Mike
Jenna and Adam's Engagement Adventure

Thanks to Jenna Beaugh for letting us excerpt portions her wonderful blog and use her photographs for this story.
Thanks to Adam's keen planning skills, Jenna was lucky enough to have her candid proposal caught on film by a professional photographer. While on a camping trip in the beautiful Hendy Woods of Mendocino County, Adam dropped to one knee and presented Jenna with the ring of her dreams. With a proposal story that included a fake face-plant in the mud, a treasure hunt of love notes, and a posse of good friends eager to participate in the romantic ruse, Jenna and Adam were engaged.
"In the end, 50 cards with reasons why he loved me were read and tears were streaming down my face. He had managed to videotape my best friends, my parents, his parents, my grandparents… It was very, very, VERY moving. Lots of happy tears in the room!"
On to the wedding at Pecan Springs Ranch in Austin, where the bride looked stunning in a long white veil, kitten heels and, of course, the custom-designed ring that Adam chose from Sausalito Jewelers.
"I know all brides probably say that their day was absolutely perfect, and I'm no different. It really was perfect for us… A huge dance party out in the country with good food and all our best friends."
Read Jenna's retelling of this utterly charming story on her blog.
Matthew and Michele's Perfect Ring
Matthew's original idea was to propose to Michele in front of the Trevi Fountain while vacationing in Rome with family, then get married in Tuscany and honeymoon throughout Italy. But when Michele's parents had to cancel their trip, Matthew decided to change course. Having family involved in their wedding was extremely important to Matthew and Michele. So instead, one night at home, Michele heard their song—"Save the Last Dance for Me"—and Matt calling to her from outside. When she opened the door, he wrapped her in a blanket and walked her through the sprinklers to propose. It wasn't the Trevi Fountain—but it was just as sweet and romantic.
When they designed their engagement ring together, Michele and Matthew wanted something that would represent their big love for each other. But Michele was concerned about the size of the ring: she wanted a modest stone that would look graceful without being too ostentatious or unwieldy. Because she's an athlete, she needed a ring that was streamlined and practical—yet elegant.
The couple came to Sausalito Jewelers with the idea of investing in a .5-carat stone in a low-profile setting. But Matthew says, "When she learned about diamonds and how different settings can show off their brilliance—and saw all the beautiful sparkling stones at Sausalito Jewelers—she slowly became converted." Ultimately, Michele and Matthew decided to invest in a 1-carat radiant-cut stone in a high (but sturdy!) setting.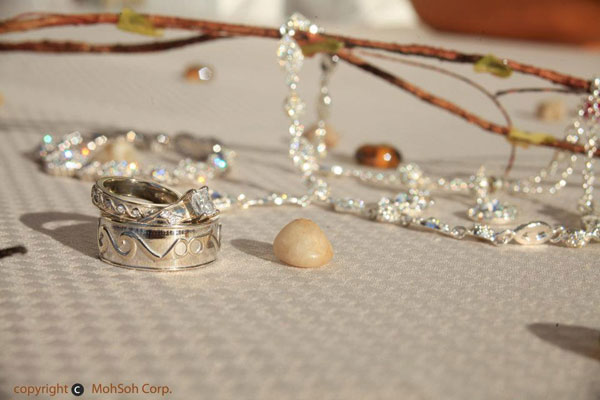 Terri and Andrew
Terri and Andrew met in 2005 in Petaluma. Terri was a barista at a local coffee shop, and Andrew worked at the bicycle store next door. He went into the coffee shop every morning, and gradually, they got to know each other.
In 2012, the couple took a romantic trip to Paris (is there any other kind?) and Andrew decided to propose. He walked Terri to the highest hill in the city to check out the Basilica of Sacré Cœur. As they stood on a secluded walkway overlooking the entire city, waiting for the Eiffel Tower to sparkle at the top of the hour, Andrew got down on one knee and asked "Do you know what else sparkles?"
Terri turned to see him holding her engagement ring from Sausalito Jewelers. She said yes, and they were married at Sebastiani Winery in their native Sonoma in September 2013.
Andrew was introduced to Sausalito Jewelers by a colleague. Andrew says, "The staff spent a lot of time with us ensuring that we were happy with our choice. When Terri's wedding band wasn't sent to the store in time for the wedding, we were left scrambling. My expectations were blown out of the water when Sam handmade an exact replica of Terri's ring only three days before the wedding."
Ashley and Michael
Ashley and Michael were married just down the street at Sausalito's picturesque Cavallo Point Lodge over the course of a quintessential Bay Area weekend that included a yacht sail round the Bay, Kirtan chanting with Nikki Slade, and a simple ceremony in a small chapel on the hill. The candlelit reception was presided over by the San Francisco Jazz Quartet with legendary singer Steve Tyrell, and refreshments were provided by Gott's Roadside, a Bay Area classic. All in all, a perfect Sausalito wedding weekend.
"Ashley and I adore the ring, and it receives many compliments." — Michael
Anthony and Charlyn
Charlyn was born and raised in the Philippines, came to the US in 2006, and lived in North Carolina, Pennsylvania and Michigan. One hot summer afternoon in 2001, while still in her native Philippines halfway around the world, she and a group of friends met a palm reader who also claimed to know the art of physiognomy (face reading). Skeptical, Charlyn was the last of her friends to consent to a reading, and when she did, she asked about her future. The palm reader said, "You will meet someone square-faced and light-skinned, and you will be very happy together."
In 2008, on a trip to Las Vegas, Charlyn indeed met her square-faced, light-skinned future husband. A friend of a friend, Anthony, too, had lived in many places, from Michigan to Washington State to Detroit. With many travels and lots of stories under both of their belts, they began to build their own story together.
While Charlyn lived in Pennsylvania at the time that they met, and Anthony in California, they began to talk over the distance. Their first official in-person date was Christmas shopping at Macy's in Michigan, where Anthony's parents lived and Charlyn was planning to move.
In April, 2010, Anthony was in Sausalito with his parents, who were visiting for Easter vacation, and compulsively decided to walk into Sausalito Jewelers and look at engagement rings. He found the one he wanted right away, but he took the pragmatic approach and shopped around for a few months before coming back to the ring that was in his heart.
That ring is now on Charlyn's finger, and you can read their entire story on their wedding blog.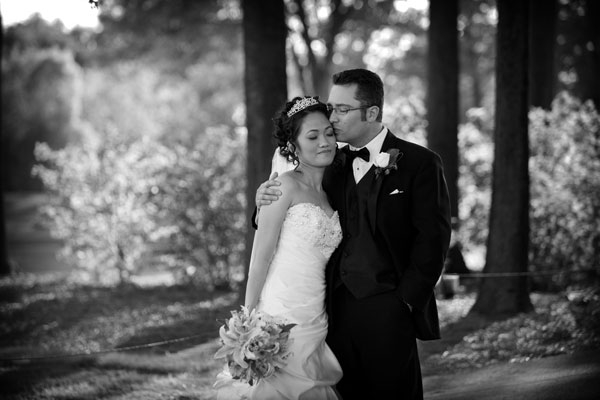 Kelly and Alisha
Kelley and Alisha were engaged on the Golden Gate Bridge under perfect Bay Area conditions — a little bit of fog and a lot of love.
"Our rings play such a big part of our happiness and commitment to one another," Alisha told us. "They are so, so personal to us. I never wanted to wear a wedding ring until walking into Sausalito Jewelers. And Kelley never wanted to wear any other ring but the ol' dilapidated antique we found up in Petaluma… Which you restored to absolute perfection! Thank you so much for helping us have the perfect symbols of our love for each other, whether old or new or from you."